Telent held an official opening in Chorley this week, following the successful completion of redevelopment work to establish the new UK Logistics Centre in Carr Lane.
Plans first commenced for the redevelopment in Chorley in May 2020, when a decision was made to decommission Telent's Heathcote Warehouse in Warwickshire and expand and develop the existing Chorley Warehouse. The project took place across the many phases of the Pandemic making the work even more challenging for the team.

Project design work for Chorley's refurbishment kicked off in October 2020 and the construction work was planned in three phases to commence in Spring 2021.
The project plans identified a range of ambitious opportunities that would not only increase capacity and facility utilisation, but the transfer would also consolidate Telent's portfolio of sites. This would create a new modern, high capacity, flexible logistics facility to support the operations and future growth of Telent and their employees.
A project team was set up to manage all the planning operations and logistics.
Project Management team members featured in the image below from left to right: Dave Seddon - System X Engineering Programme Manager, Oliver Bushell - Assistant Project Manager, Matt Bramwell, Facilities Manager - Northern Region, Patrick Flanagan - Head of Estates and Facilities, Mike Toole, Business Director - System X and BT Sales, Pete Coyle – Logistics Manager, Trevor Haresceugh – ITCS Network Operations Manager, Joseph Flynn, Logistics Operations Manager. Additional team members (not present in the photo) are Raj Mattu, Head of Logistics, Peter Middleton, EHS Advisor, Dave Birkett - Senior Category Manager, Procurement, and Kath Ellison - Warehouse Supervisor.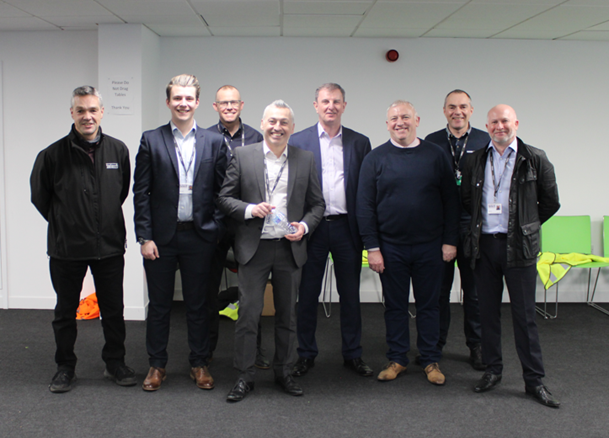 Our teams at Chorley provide logistics services to the Network Services, Transport and Infrastructure Services businesses covering most of our major customers and key programmes including Virgin Media, Openreach, NRTS, Sky, BT, MCA the Blue Light Services.
The programmes supported typically involve the build and ongoing support of the mission critical networks that are fundamental to the UK National Infrastructure in the areas of transport, emergency services, fixed and mobile data and voice communications including the UK's current investment in Fibre Broadband and 5G networks.

Telent 's Executive Management team were given an extensive tour of the Chorley site and newly refurbished warehouse. Chief Executive Officer, Jo Gretton, said: "It is very impressive how the team have worked collectively to make this project work whilst also keeping their eye on improvements for the future. We now have a great facility in Chorley that will help our business to manage all our logistics operation supporting many major programmes from one location. Well done to all of the team involved they have done a fantastic job!"
Since the refurb, it is clear there are several great benefits for Telent and our large-scale operations, which include:
Significant investment in the Chorley site with the creation of a new, modern, high capacity and flexible logistics facility to ensure the logistics function can continue to meet the business needs – flexibility is key as these are changeable
Implementation of the Oracle WMS system (warehouse management system) at Chorley increases efficiency, accuracy, and reporting
Investment in Telent's staging, LRC (Logistics Resource Centre), TSC (Technical Service Centre) and secure storage functions – key USP's
Utilisation of a highly experienced team in Chorley for the day-to-day management of the logistics centre.
Increased long term asset utilisation at Chorley
Increased utilisation of Warwick Point 3 site (because of not splitting office space between Heathcote and Warwick Point 3)
Insourced approach allows Telent to build its capabilities and expertise in the logistics function to support the business and its projects moving forward
The Executive Management Team, Project Management Team and colleagues gathered after the formal opening to discuss the project and to celebrate their successes over lunch.