Celebrating the talent within telent
It has been a challenging time for the rail industry in terms of criticism of its performance – which is why it was so great to celebrate the sometimes-overlooked highlights at this year's Rail Staff Awards and Transport for London Supplier Awards.
RailStaff Awards success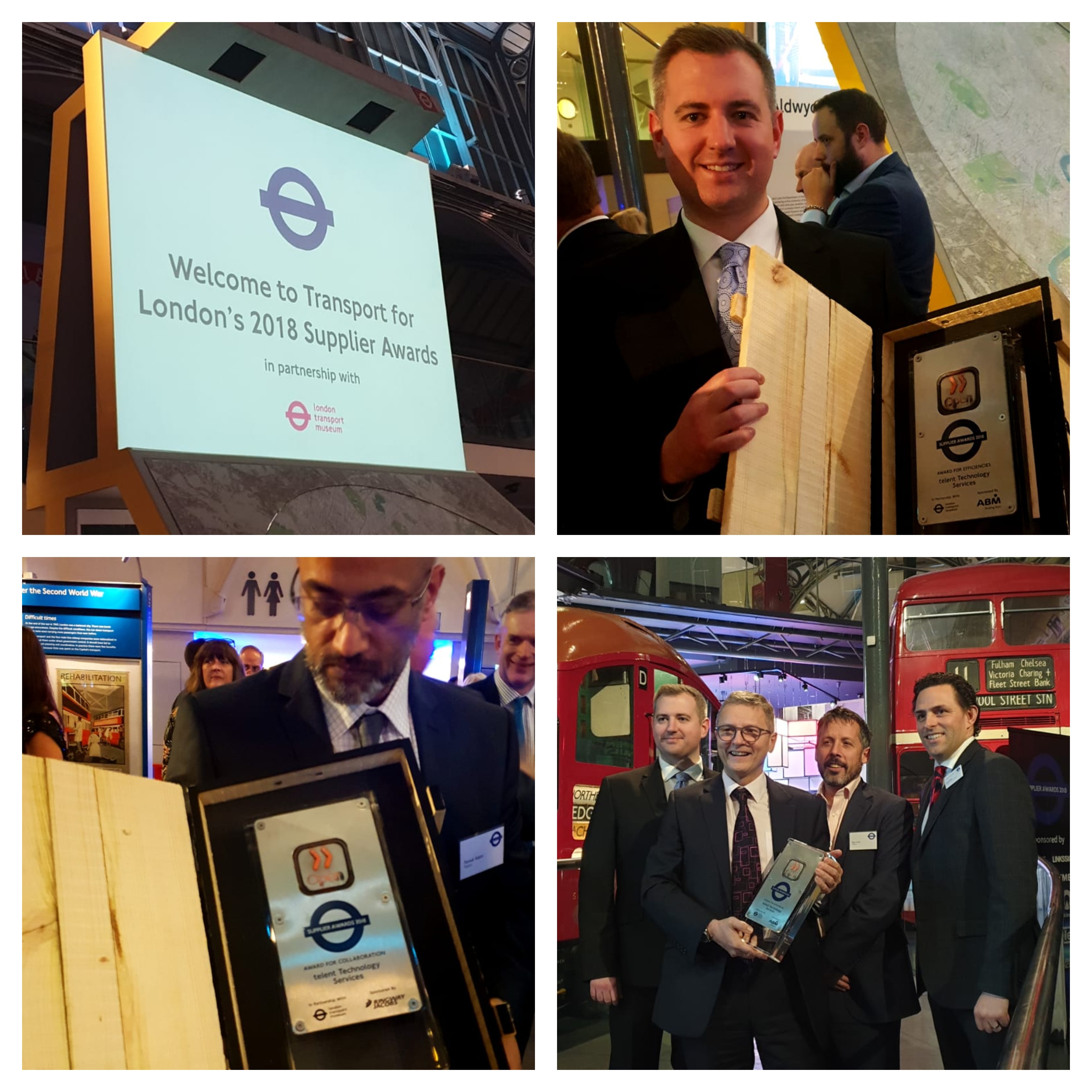 As the only rail industry event dedicated to recognising the great work being carried out by individuals and teams, the annual RailStaff Awards provides a much-needed opportunity to celebrate those individuals and teams who have gone above and beyond to keep Britain's railways running safely.

And, at telent, we have a great deal of employees that thoroughly deserve to be recognised. At this year's ceremony we had eight finalists, two award wins and a highly commended mention. We are well and truly bursting with pride!
Without further ado, the well-deserved RailStaff Awards winners were:
Control, Signalling & Telecoms Engineer of the Year - Garry Andrews, Engineering Manager – Ops Comms
Garry joined telent 11 years ago and has been a core part of the rail training and development side of the business ever since. Responsible for training and mentoring a third of the UK rail industry's operational telecoms Person in Charge of Testing (PICOTs), Garry is passionate about developing individuals to bridge the skills gap and increase the talent pool to keep our railway running safely.
Rail Team of the Year - SWIFT Team (NRT, NR, Scotrail, CISCO, telent)
Working in collaboration with Network Rail, ScotRail and Cisco, the SWIFT team worked tirelessly to delivering the complex Superfast Wi-Fi In-carriage for future travel (SWIFT) trial between Edinburgh and Glasgow. The first of its kind in the UK, the team overcame significant challenges in stakeholder management and product and design approval within a limited timescale.
Apprentice of the Year - Highly Commended - Carl Braid, Cyber Security Apprentice

Carl researched, found and applied for the first rail cyber security apprenticeship with telent who were blown away by his knowledge, aptitude and attitude. As one of the first cyber security apprentices in the UK rail industry, Carl is a qualified and competent "ethical-hacker" who only began his apprenticeship with telent this year! Carl is involved in testing and exploring the stability of the UK's rail network.
The wider team telent shortlist included:
Graduate of the Year
Askin Alpinar, Graduate Engineer
Lloyd Harriman, Assistant Project Manager
Rail Engineer of the Year
Conor Maton, Network Engineer
Richard Maries, Lead Engineer – Station Comms
Trainer of the Year
Mark Warrender, Lead Network Solutions Architect
Collaborative and efficient at TfL Supplier Awards

Recognising the critical work of the supply chain behind Transport for London (TfL), team telent also attended the TfL Supplier Awards last month. We were shortlisted for two supplier awards in the categories of collaboration and efficiencies. And the team won both!
Receiving these awards not only recognises our effective approach to business and our commitment to our customers, it also highlights the effort and creativity of our dedicated team.

We would like to extend our congratulations to all telent winners and nominees of the RailStaff Awards and TfL Supplier Awards. We witness your determination, passion and commitment every day and it was so great to see you all recognised by your industry and your peers.
Extraordinary efforts

Each and every person in our amazing workforce is making a positive difference to the rail industry and their levels of dedication and commitment are unparalleled. Many people do not realise the extraordinary efforts that our workforce puts in for telent, the railway and our customers. At telent, we are striving to change this. We want to show the rail industry – and the nation – what we are made of.
And we are made of incredible talent!
Through working on high-profile projects such as Crossrail, Wessex SISS renewals, BASRE, National Power SCADA, RETB in Scotland, HS1 and TfL's 'Hello London', we have developed a diverse workforce made up of experienced employees, graduates and apprentices, encouraging mentoring and knowledge sharing to bridge the skills gap needed in the industry and for the start of CP6, the next Network Rail control period, and beyond.
Developing telent talent
We are committed to developing our people, whether it be via formal training, mentoring programmes or through working alongside colleagues to gain knowledge and experience, so we are fit for the future. Understanding the importance of talent and the skills needed to deliver in the future, we have invested heavily in our workforce over the last two years. For example, we have taken, and continue to take, on record numbers of graduates and apprentices every year.
We are also the first in the industry to offer a rail specific cyber security apprenticeship scheme. The feedback from this scheme has been highly encouraging, given that cyber security is an important element of maintaining a safe and reliable railway.
Our commitment to mentoring and training the next generation will continue.
After all, telent is a people business and we understand that we are only as good as our workforce which is why it is important to not only provide training and support to our staff but to recognise and share the contribution that each person makes to the organisation.
Recognising success
Given all of this, it will come as no surprise, that we have our own awards dedicated to the recognition of the fantastic talent at telent. Our internal 'Thanks Awards' scheme celebrates colleagues who have gone above and beyond, whether in R&D, design, project management or out in the field.
Whether through the RailStaff Awards, TfL Supplier Awards or Thanks Awards, it is so important to celebrate and recognise those who have dedicated their working life to a career in rail.
People are our future and we would not be where we are today without them.
Back to Blog
Make an enquiry